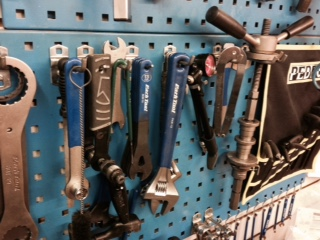 We have two full time mechanics who keep every bike imaginable up and running. Rob has been with us since day one and has best part of 30 years worth on knowledge and experience of bicycle mechanics. Will although young shows experience and knowledge beyond his years.
Puncture Repairs
Basic Service
Full Service
Wheel Building and truing
Custom built bikes
Fork and Shock Servicing
Specialized Turbo Levo electric bike servicing, diagnostics and updates
Shimano Di2 installation, servicing, repairs and diagnostics
Hydraulic brake servicing and bleeding.
Tubeless tyre installation
Internal routing of cables for gears brake and seat posts.
Plus much much more
Please call ahead or contact us before bringing your bike down particularly during the summer months – we are in high demand, so you may have to book your workshop time in advance. Puncture repairs are usually completed on the spot and wheel trues are often sorted within a day or two, so feel free to drop them off with us anytime.
Please ensure your bike is clean before dropping it off with us or we can clean it for you for a £20 surcharge.
FAQs
How much will it cost?
Every bike is different, so before we carry out any work, one of our mechanics will discuss the service with you and provide an estimate.
When can I drop my bike off with you?
Either the day before it's due for service, or the morning of the day itself.
When can I collect it?
We'll call you as soon as your bike is ready for collection. With the odd exception, this will be the day the work has been carried out.